Sahasra Educational Society
At Sahasra Educational Society, we firmly believe that our school should inspire a love of learning while promoting children's social and emotional growth, intellectual development along creativity. We believe that children learn best in a positive environment with careful direction and guidance from teachers who demonstrate care and concern for each child. We believe that a school should encourage exploration and inquiry in an environment enriched with opportunities in the arts and sciences, and we also believe that a school's instructional programs should ensure that students reach their full potential for academic achievement.
The mission of the Sahasra Educational Society is to ensure that no child is left behind. Education should foster in its learners a curiosity to discover who they are and what they are capable of, together with developing the resilience for them to test the boundaries of their abilities, and build the skills necessary to face the future with confidence.
Dr. Sateesh Polisetty
Director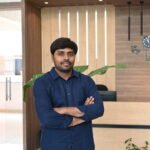 Dr. Manoj Kumar Veerabomma
Director
Dr. Gandhi Reddy Poli
Director
Mr.Ajith Kumar Munagala
Director